How to Report for RadioLabour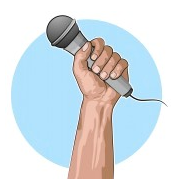 There are two ways to produce and send us a report:

via Skype as a voice message
as an audio file via our file upload facility


Using Skype to report
1. Purchase, or borrow, a headphone-microphone unit. These are inexpensive units used by people who are using the Internet for long distance telephone calls. You can buy a unit at any computer store.
2. Join the online Voice Over Internet service called Skype at www.skype.com. Skype is a service which allows you to make voice calls to other Skype members free of charge.
3. Download the free Skype software and install it on your computer. After the installation you will be able to verify if your connection is set up correctly by calling the Skype Echo Sound Test Service. Once you have installed the software and verfied that your headphone-microphone is working correctly you will, of course, not have to repeat this step. You'll be able to quickly and simply send your audio-reports any time you want.
4. Log on to Skype and add as a New Contact: radiolabour
5. Call radiolabour
(Instructions for installing the Skype software, adding a contact and calling a Skype member - in this case RadioLabour - are all on the Skype site or in the Help section of the Skype software.)
6. When you call RadioLabour on Skype you will connected with our voicemail service. This is where you can leave your audioreport. Here's how:
Wait for the beep
Clearly say your name and country
Pause for about 10 seconds
Make your report
End the voicemail
The voicemail system has 10 minutes of space. So there's lots of time for you to make your report.
Talk slowly and clearly. Try not to sound as if you are reading your script. If you make a mistake, don't worry. Just start reading your script over again. Remember: you have 10 minutes, so take your time. Repeat your report over and over again if you want. If you are still not satisfied, just call back. We will use the last version of the report you send us.
7. Send a copy of your script to us using our Contact page.
Producing the audio files
Audio files are prepared using equipment such as headsets and microphones plus recording software.
The most basic equipment is a headset - the kind people use to phone Skype. Headsets work perfectly well and you may never need any other equipment. If, however, you want to improve the quality of your audio recording you should consider purchasing a microphone. If you need advice on how and what to purchase send us an email. We'll be happy to help.
The most basic software for recording comes with Windows. Search for the program called Sound Recorder. This program works quite well for producing audio files which can be included in RadioLabour newscasts. However,Sound Recorder does not allow you to edit your audio file.
To create and edit audio files you should use a free-of-charge program called Audacity. Send us an email if you want help installing or using Audacity.
Some of RadioLabour's reporters use more advanced equipment and software for producing their reports. A very good field recorder/microphone is the Zoom H2N. Our daily newscasts are created using editing software called Adobe Audition.
If you are sending us an audiofile please send it as an MP3, OGG or WAV file.
Sending reports
All audiocasts must be accompanied by a written script. If you do not send the script your report will not be audiocast. Our file upload facility can be used to send both audio files and scripts.
If you have sent us a recording via Skype don't forget to send us a copy of your script using the file upload facility on our website.
When we have received your audioreport and script we will send you an email. And then your audiocast will be included in one of our newscasts. Thank you!